AOI Residence Quartet
AOI Residence Quartet
-AOI Residence Quartet-
In 1995, with the opening of the Concert Hall Shizuoka AOI, AOI's exclusive string quartet, Katsuya Matsubara, Mie Kobayashi (violin), Atsuko Shirao (viola), Ken-ichiro Yasuda (cello), all formed by string musicians who represent Japan It was done.

In 1998, the cellist has been changed to Fumiaki Kono, and in 2001, the violist Yoshiko Kawamoto took over.

They often picked up W.A.Mozart and Schubert. And in 2000, performed the world premiere of Akihiro Miwa's string quartet "Emperor" in C major (Concert Hall Shizuoka Commissioned Music Works), and they continued to provide a performance which is excellent in a wide range of works from classical to contemporary music. In particular, the overwhelming passionate performance of Bartok: String Quartet No. 1, 3, 6 in 2004 is a historical masterpiece.

They performed with P. Rogé, Ichiro Nodaira, Yukio Yokoyama, Kyoko Tabe (piano), Yumiko Sakuma (flute), P. Meyer (clarinet), Shinichi Fukuda (guitar), and others. They have enjoyed the audience's ears with a variety of programs centered on string quartets.

In 2010, he performed at various locations in Shizuoka Prefecture, including Kikugawa Cultural Hall Aeru, Izu City Ikiiki Plaza, Omaezaki Civic Hall, and Grandship.

Future activities are expected more and more.

In 2013, They received Shizuoka Prefecture Cultural Foundation the 26th Regional Cultural Activity Special Award, and in 2014, Shizuoka Prefecture Culture Encouragement Award.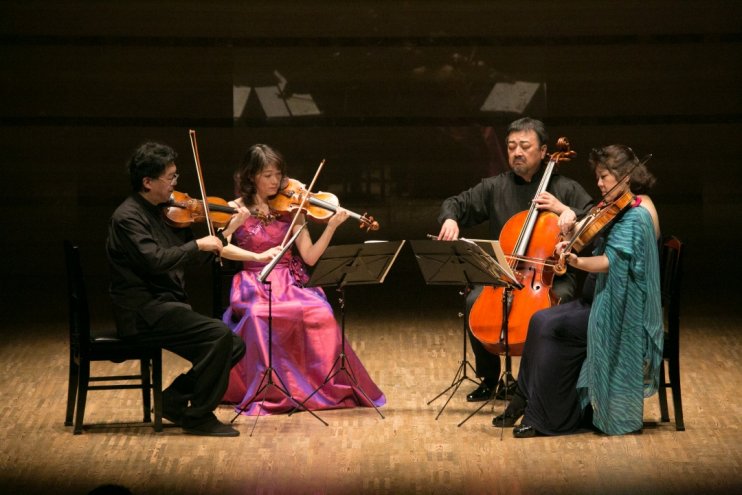 撮影:日置真光


Katsuya MATSUBARA(Vn.)

Born in Tokyo in 1963.While studying at Tokyo University of the Arts, received the Ataka Award.

He won higher-ranking prizes at major international competitions such as International Fritz Kreisler Competition.

From 1989 to 1999, he was the concert master of the New Japan Philharmonic Orchestra.

Including an unaccompanied recital series that attracts attention with a fresh approach that re-examines everything from Bach to contemporary music, he always cause a stir in established music views, including improvisation, collaboration with composers and jazz musicians.The performance style has been highly evaluated.

As a soloist, he performed with major orchestras such as New Japan Philharmonic, Tokyo Philharmonic Orchestra, the Tokyo Symphony Orchestra, Orchestra Ensemble Kanazawa, and the Kobe Chamber Orchestra.

In chamber music, he performed with Yo-Yo Ma, P.Serkin, R.Stoltzman, C.Neidich and received acclaim.

He Produced "Advent Seminar and Concert for Young Performers" held at Dai-ichi Life Hall since 2001.

In 2002, at Tsuda Hall "Katsuya Matsubara +", it became a hot topic in collaboration with Yuji Takahashi, Kenichiro Yasuda, Shinichi Fukuda, and Kazumi Watanabe.

He also teaches chamber music every summer as a lecturer at the KIRISHIMA International Music Festival.

Professor of Tokyo College of Music.He recieved the 17th Kenzo Nakajima Music Award in 1999, New face Award of Arts Festival by Japanese Agency for Cultural Affairs in 2000.
Mie KOBAYASHI(Vn.)

She studied at the university from the Music High School attached to the School of Music at TokyoUniversity of the Arts.

In 1983, ranked second in the 52nd Japan Music Competition.In 1984, he received the Kawai Award forOverseas Dispatch Competition.

In 1988, ranked second in Geneva International Music Competition and received the Sonata Award.

He also won the Tokyo University of the Arts Ataka Award in Japan.

Since winning Japanese first title in the Violin category of the Ron Thiborg International Competitionin 1990, She has been active as a violinist representing Japan in recitals, orchestra soloists, chamber music, etc.

She has recorded many CDs, and in September 2010, a collection of "violin masterpieces" including Zigeunerweisen was released.

In 2010, commemorating the 20th anniversary of his debut, she performed a memorial recital at KioiHall.

In November of the same year, she was invited as a jury member for the Violin section of the Ron-Thibault International Competition.

Currently, she is a professor at Showa University of Music and is teaching one's juniors.


© Akira Muto

©島崎陽子

Yoshiko KAWAMOTO(Va.)

In 1992, Top of the Geneva International Competition Viola Division (second place without first place).

In 1996, won the Muramatsu Award, and in 1997, won the 7th Nippon Steel Music Award and FreshArtist Award.

One of the most active viola players as a soloist and chamber musician.

Member of Arti String Quartet (Kyoto), AOI Residence Quartet.

Joined the Tokyo Metropolitan Symphony Orchestra in 1991.From 1999 to 2002, she served as theprincipal player.

Participated in Tanglewood, Marlborough, Davos, Tokyo Summer, Kirishima International Music Festival, Saito Kinen Festival Matsumoto, Seiji Ozawa Music Academy, Mito Chamber Orchestra, Argerich Music Festival, etc. (Beppu).

She has performed well with M. Argerich and Y. Bashmet, and She won praise.In chamber music with C.Myung Hoon, she also performs in Japan and Korea.

As a soloist, she has performed with renowned conductors such as G. Bertini, J. Fournet and P. Mark.
Fumiaki KONO(Vc.)

Graduated from Kyoto City University of Arts.

In 1982, he studied in Los Angeles as an overseas researcher at the Agency for Cultural Affairs, and then studied at the Vienna University of Music.

Studied under Toshio Kuronuma, Gabor Wright and Andre Navarra.

After returning to Japan in 1984, he performed with recitals and orchestras as soloists, and performed in Japan for the first time in Japan such as the Finnish composer Jonas Kokkokonen's cello concerto and the Italian Luciano Belio's unaccompanied "Sequenza X IV".

He has also been actively involved in chamber music performances, and currently performs widelyin Japan and abroad as a member of the Ensemble of Tokyo, Kioi Sinfonietta Tokyo, AOI Residence Quartet, Kiyoshi Okayama String Quartet.

Won the first prize in the 50th Japan Music Competition Cello category (81), Kyoto Music Award (90),Osaka Cultural Festival Award (92), Kyoto Cultural Award Achievement Award (2004), etc.

Currently, he teaches one's juniors as a professor at Tokyo University of the Arts.